Careers in Military Music
Would you like a career in Military Music? The British Armed Forces are the largest employers of musicians in the UK. Read about Tri-Service Music and how you could take up a career in music.
• Symphonic Wind Bands • Marching Bands • Big Bands • Rock & Pop Bands • String Orchestras • Mounted Bands • Brass Bands •
The Tri-Service, or Her Majesty's Armed Forces are made up of the Royal Marines, The British Army and The Royal Air Force.
"Today, the British Armed Forces consist of: the Royal Navy, a blue-water navy with a fleet of 77 commissioned ships; the Royal Marines, a highly specialised amphibious light infantry force; the British Army, the UK's principal land warfare branch; and the Royal Air Force, a technologically sophisticated air force with a diverse operational fleet consisting of both fixed-wing and rotary aircraft. "
All Land, Air & Sea Forces in the UK employ and train soldiers whose primary role is musical, in both full time and part time capacities. This is known as Regular Service or Reserve Service. Which service is for you?
As a Musician in the Royal Marines Band Service, you'll be a part of the world's most versatile military music organisation. The public face of the Naval Service, combining military duties with a professional music career that will take you all over the world, all in the name of defence diplomacy. Performing on the biggest stages, at the most historic events. From playing for royalty, to welcoming important political visitors, you'll need to be just as exceptional as our Commandos. The same Commandos you'll work alongside on operations – and lead out on parade.
A career or job in the Corps of Army Music can offer full time employment as a musician within the British Army. A pensionable career potentially to the age of 55. Fantastic travel opportunities with the chance to perform at great venues and events around the world. Music is utilised in the British Armed Forces as a source of influence. It contributes to the moral component of fighting power by supporting the ethos, tradition and identity of our personnel.
Military music sustains support for formations at home, on operations and is a means of UK Defence influence around the globe. 
"To provide optimum musical support for the Royal Air Force in order to enhance public perception, support State Ceremonial and achieve influence to further Defence and National interests"
Under the command of it's Principal Director of Music, Headquarters Royal Air Force Music Services administers 177 professional musicians who provide musical support for the Royal Air Force at public and military events around the world.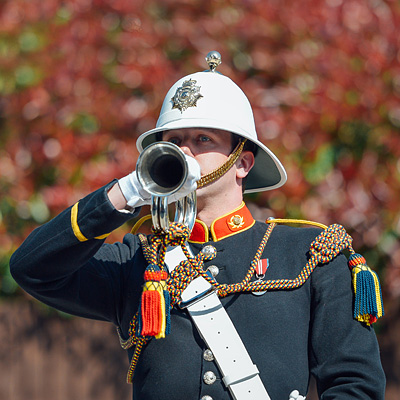 Eligibility
Aged 16 to 32 when you start Basic Training
There is no minimum qualifications requirement
You must be able to read music and play a brass, wind, stringed or percussion instrument to a high standard
For males a BMI of under 28. This rises to 28-32 BMI rate if your waist measures less than 94cm. For candidates under 18 years of age, BMI should be between 17 and 27
For females, a BMI of under 28. This rises to 28-30 BMI rate if your waist measures less than 80cm. For candidates under 18 years of age, BMI should be between 17 and 27
Minimum height of 151.5cm, and a minimum weight of 65kg for males
A national of the United Kingdom or Ireland, a Commonwealth citizen who has lived in the UK for the last 5 years, or a dual national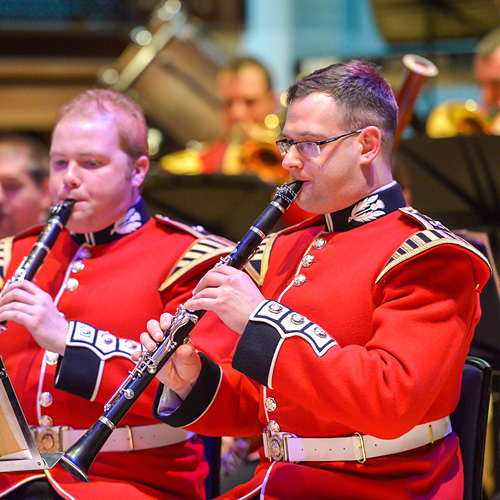 Eligibility
The Corps of Army Music is interested in your performance and potential rather than just music qualifications.
Not all musicians have recognised musical qualifications, so with or without them you may gain entry in to the Corps by audition alone. If you can demonstrate you have the potential we are looking for, we can help develop it to the full.
We will audition you where you will be expected to perform 2 contrasting pieces on your primary instrument/voice and if applicable, on your secondary instrument.
During the audition process your sight reading skills will be tested and your aural perception assessed.
You will also be required to sit a general musicianship paper.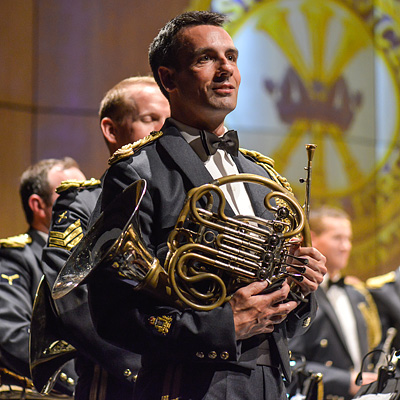 Eligibility
To join the RAF as a musician you will need to have a minimum playing standard of ABRSM Grade 8 or equivalent.
Entry is by audition based upon the format of the Grade 8 examination. Entry level is determined at that audition; either Part-Qualified (the minimum standard acceptable), or Qualified (typically at college graduate/diploma standard).