Meet the NCBF Adjudicators who listen and offer feedback to the participating wind and big bands that perform at our regional and national festivals across the UK!
DUNCAN STUBBS MMus FRSM ARCM LGSM RAF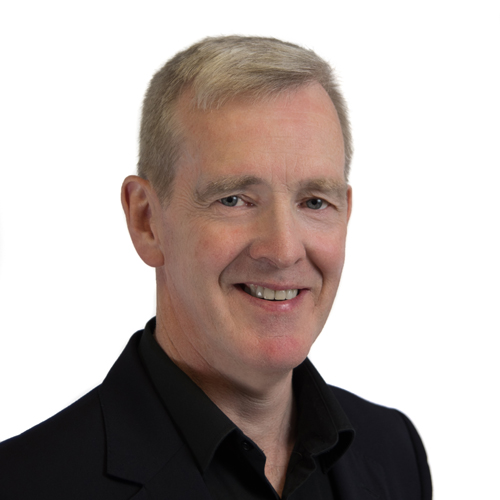 Duncan Stubbs is one of the UK's most experienced wind band directors. He was awarded his music degree at York University, specializing in performance, followed by a year's postgraduate study in Birmingham specializing in music education. He joined the Royal Air Force in 1983 as a member of the Central Band of the RAF and was commissioned as a Director of Music in 1990, being one of the youngest ever commissioned Directors of Music in all three Services. He went on to serve with all the RAF Bands and completed 2 tours in the Headquarters with responsibilities for all aspects of training and administration. He was appointed Principal Director of Music for the Royal Air Force in November 2009
During his nine years as PDM, Duncan worked tirelessly to maintain the RAF's reputation for musical excellence on a global scale. He worked collaboratively with some of the UK's leading musicians including; Nigel Hess, George Fenton, Phillip Spark, Martin Ellerby, Phil Cobb, Linda Merrick, Simone Robello,  Steven Mead. Responsible for instigating a successful commissioning programme to generate new music for Wind Bands he has both broadened the repertoire and supported new, talented composers. His musical experience ranges from working with musicians in school, University, Conservatoire, and Community Bands to televised performances, producing and recording commercial CDs, arranging for film and composing for Wind Band and smaller ensembles as well as having led major ceremonial events with the RAF, a highlight being writing and conducting the wedding fanfare for the marriage of Prince William and Kate Middleton. Duncan continued his musical studies throughout his career, being the first musician to be awarded the Fellowship of the Royal Schools of Music (Directing –Wind Band) and completing a master's degree in composition where he was awarded both the Albert Thomas Composition prize and the Primrose Ensemble Composition Prize for composition. In 2017 he was awarded the OBE for services to Military Music.
Since leaving the RAF he has been appointed resident conductor with 2 wind bands, he frequently leads wind band workshops throughout the UK and is the regular conductor for the Kent Youth Wind Orchestra summer course. He teaches conducting for the RAF and the University of West London and has been asked to lead a conducting course for a residential summer school in the South East of England.  He frequently adjudicates at both brass and wind band Festivals and continues to write and arrange music.
Duncan is delighted to be appointed the chairman of the NCBF and looks forward to using his skills and experience to further broaden the musical opportunities and aspirations of Wind Band musicians throughout the UK.
"…. In Duncan Stubbs they have one of the finest conductors in the UK wind band world, full of dynamism but with a sensitive ear for balance and colour"  Tim Reynish
'Duncan brings a wealth of experience and knowledge to every rehearsal and continually motivates students of all ages to work to their full potential. An engaging technique allows for any group under his direction to flourish and develop in a very enjoyable atmosphere. A consummate professional.'    Phill Hyde  - Manager: Kent Youth Wind Orchestra,  Kent County Youth Orchestra, Kent Music Summer School. 
".. the conducting of Duncan Stubbs was an object lesson: clear, decisive but unobtrusive and always at the service of the music"  Peter Wilson, 'British Bandsman' magazine
"The consensus of the LCM Wind Ensemble was that it was their best concert performance to date and the best conducted" Nigel Clarke, on the occasion of Philip Wilby's birthday concert 1999
'Duncan Stubbs is a leading light in the musical world. He has established world class standards of performance with RAF Central Band and has consistently maintained a dedication to share his knowledge and leadership with aspiring young musicians. Duncan's enviable reputation as a director, composer and educator place him amongst the world's finest exponents of Concert Band Music, with his charismatic mentorship and skillful presentation always producing remarkable results'.  Kevin Price. Interim Director of Music (2018) and Head of Brass and Percussion - Royal Welsh College of Music and Drama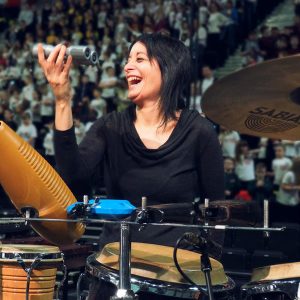 Simone Rebello graduated with Distinction from the Royal Northern College of Music to embark on a career as a solo percussionist that has seen her recording several CDs (the latest with the BBC Singers), touring and broadcasting extensively nationally and internationally and winning a collection of awards and prizes including Cosmopolitan Woman of the Year in the Performing Arts. She works frequently as a concerto soloist with wind orchestras and brass bands around the world and as a solo recitalist.
Simone is a founder member of BackBeat Percussion Quartet who have won a number of chamber music competitions in the UK, Japan and USA and who continue to tour record and present concerts globally.
Simone appears regularly as a guest performer with a number of ensembles including The Equivox Trio, Ex Cathedra, The Young Voices Band and in a duo with outstanding jazz pianist Jason Rebello. She has worked with artists including Beverley Knight, Alexandra Burke, Tony Hadley and Mika.
In September 2010 Simone was appointed as Director of Percussion at The Royal Northern College of Music, and is currently also Acting Head of School of Wind, Brass and Percussion. In addition to performing Simone is an experienced adjudicator of percussion events, wind and brass contests and general music competitions and has judged for such prestigious events as BBC Young Musician of the Year, National Brass Band Championships for New Zealand, Australia, USA, Europe and Switzerland and for the National Concert Band Festivals in UK and Norway.
Simone is frequently invited to present concerts and talks/lectures/workshops featuring all aspects of percussion and performance. Simone works regularly as a presenter for events including the European Brass Band Finals, The Brass in Concert Championships from The Sage and the RNCM Festival of Brass including a concert for BBC Radio 2. She has also worked as a presenter for the National Brass Band Finals (Royal Albert Hall),The Great Northern Brass Arts Festival and European and national events for Yamaha. Simone is a solo artist and endorsee for Yamaha Music Europe, Mike Balter Mallets and Sabian Cymbals.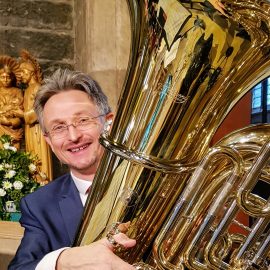 Gerard Booth has been Head of the Oldham Music Service and Director of Music for Oldham since 2010. He studied at the RNCM with Stuart Roebuck, Andy Duncan and Brian Kingsley.
Gerard's performing experience includes playing professionally with the Hallé, BBC Philharmonic and East of England Orchestras. He still regularly performs with a various semi-pro orchestras.
Gerard has also appeared and been a member of many of the country's top brass bands, including Grimethorpe, Brighouse and Rastrick, Leyland and Foden's bands as well as being tuba player for the
world famous 'James Shepherd Versatile Brass' group for over ten years. Gerard is currently the adviser for the North West of England to the National Association for music education, Music Mark and remains in demand both locally and nationally as an adjudicator for various music festivals and competitions.
He has acquired a breadth of experience both as an educator and performing musician and continues to work on a daily basis with young people. At Oldham Music Service he is responsible for overseeing almost
50 different ensembles which rehearse on a weekly basis at the Music Centre and in community locations and which serve almost 1,000 people. In addition to this, Music Service staff deliver high quality musical
opportunities to over 10,000 young people in Oldham schools every week during term time. Gerard has been married to Tracey, who is herself and oboist and teacher, for almost 30 years and they have three adult children, two of whom, Aaron and Benjamin, are following careers in music in Glasgow and London respectively, whilst their daughter, Anastasia, is pursuing a career in flood management in the North West.
In his (occasional) spare time, Gerard is most happy following his twin passions of fell-walking and landscape photography. On the very finest of occasions, these are combined with his love for single malt, scotch whisky!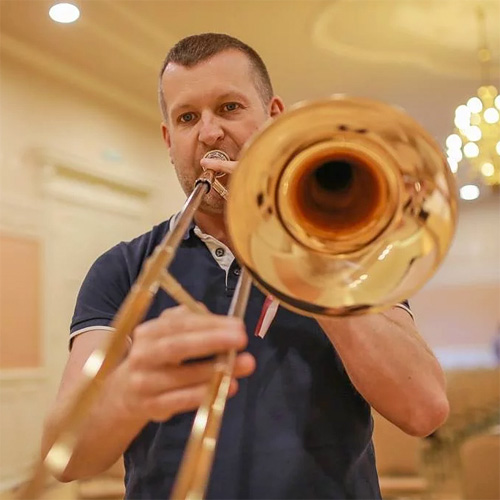 Steven has worked in music education as a teacher, performer, conductor and lecturer for over 25 years. His educational research has led to several publications under the label 'Music Marvels', a unique series of tutor books and resources.
Steven is currently a Senior Lecturer in Music at the University of the West of England. He is a Fellow of the Winston Churchill Memorial Trust which was awarded after his research into high school music education in the USA in November 2015.
His work has taken him to Lithuania, New Zealand, Holland, New Zealand, USA, Spain Singapore and South Korea, working as an adjudicator, teacher and trombonist. Steven works as a Trustee for the National Concert Band Festival.
SIMON PLATFORD MBE, BA, LTCL, ABSM, PGCE NPQH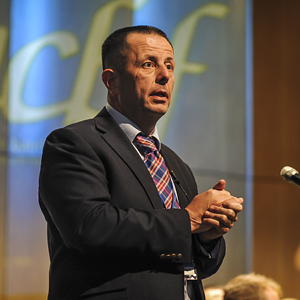 SIMON PLATFORD hails from East Anglia and began his musical career playing the trumpet as a seven year old. By 13 he had passed grade eight and and at 16 had gained a music scholarship to study with the renowned cornet player Philip McCann in Yorkshire. The pair worked together for 5 years with the final three at the Birmingham Conservatoire where Simon left with a First Class honours degree in performance and he was a grand finalist in the BBC Radio 2 Young Musician of the Year Competition.
Simon has always worked in music education, his previous schools have included The High Arcal School where he led a band of 17 beginners to become National Concert Band Festival Platinum Award Winners in six years and Abraham Darby School, Telford, where as Head of Music he led a department that accumulated an amazing 23 National top awards, five performances at the Schools Prom held at The Royal Albert Hall and four International awards, including a performance at the Isaac Stern Auditorium, Carnegie Hall, New York.
As a performer, Simon's main instruments are Cornet & Trumpet. He has been privileged to play with some of the country's finest bands and ensembles as well enjoying many solo recitals. As a teacher he has been a national finalist in the Classic FM Music Teacher of the Year Competition and earlier this year he was a national finalist for the Musician's Union Inspirational Teacher award. In October 2014, Simon was awarded an MBE for his services to music education.
Simon is currently the Director of Music at Wrekin College, Telford, a non selective co-ed independent school. He has held this position for two and half years. In this short time participation in the extra-curricular music has increased by nearly 40% and the department has been recognised by the incorporated society of musicians as one of the top 200 in the country for it's GCSE results.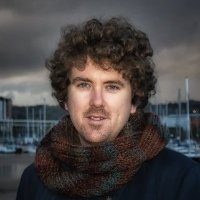 TOM DAVOREN is a composer and band director with a growing international reputation. His music for bands is premiered and commissioned the world over by artists including 'The President's Own' United States Marine Band, Central Band of the Royal Air Force, Brass Band of Battle Creek, Cory Band, Philippe Schartz (Principal Trumpet BBC National Orchestra of Wales), Glenn Van Looy (International Euphonium Soloist) and Steven Mead (International Euphonium Soloist).
Noted performances of his work have been given at New York's Carnegie Hall, the BASBWE London Festival, Royal Northern College of Music Festival of Brass, World Music Contest (Kerkrade), International Tuba Euphonium Conferences, International Trumpet Guild Conferences, Schagerl Brass Festival, Swiss Solo Quartet Championship and the solo and band sections of the National Band Championships of New Zealand, Australia and Great Britain. He also has a special relationship with the Belgian ensemble Brassband Buizingen, acting as their Associate Composer since 2015. Away from bands Tom composed a fanfare for the Royal opening  of the fifth National Assembly for Wales in 2016, whilst his first work for orchestra, Tourbillon, was premiered by Denmark's Aalborg Symfoniorkester in 2017.
As a conductor Tom began his career with the BTM Band from South Wales. He has since gone on to success as Musical Director of Desford Colliery Band, Associate Conductor of the Fairey Band and Musical Director of Bristol's Filton Concert Brass, who he has established as one of the UK's newest championship bands. In 2015 he directed Maidstone Wind Symphony to the National Concert Band Championship title and was honoured to serve as conductor of the National Youth Brass Band of Wales in 2016.  He has also led conducting students and directed the brass band at the University of Salford since 2016. You can view Tom's contesting history at www.brassbandresults.co.uk.
Tom studied tuba with Nigel Seaman at the Royal Welsh College of Music & Drama and holds Bachelors and Masters degrees in composition having studied with Anthony Powers and Arlene Sierra at Cardiff University School of Music. In 2009/10 he was awarded a research scholarship from the Arts and Humanities Research Council and the Welsh Livery Guild Composition Award. He was also a BASCA British Composer Award nominee in 2011, a prizewinner at the EBBA European Composers Competition 2012 and the recipient of a Harvey Phillips Award for excellence in composition, presented by the International Tuba Euphonium Association, in 2014.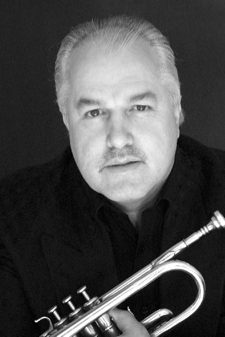 IAN DARRINGTON was Director of Jazz Performance for Wigan Council Education Department from 1977 until March 2011. Whilst working for Wigan he had special responsibility for jazz education, having joined their instrumental teaching staff in September 1977. Ian was educated at Dudley College of Education, Huddersfield Polytechnic and Bretton Hall College of Education. He is the founder and director of the Wigan International Jazz Festival, now in its twenty-sixth year and co-founder of the Wigan Jazz Club now in its twenty-eighth year. He was also musical director of the award winning Wigan Youth Jazz Orchestra, a post he has held for over thirty years. During that time he produced sixteen albums the most recent of which is due for release in July 2011.
Through his work with the orchestra he toured France, USA (five times) Hong Kong, British Columbia, Poland, Ireland, Czechoslovakia, South Africa, the Faroe Islands, Hungary, Isael, Kuala Lumpur, Singapore, Australia and Romania. Artists that Ian & WYJO worked with include Maynard Furguson, Bobby Shew, Salena Jones, Georgie Fame, James Morrison, Buddy Childers, Conte Candoli, Bill Perkins, Eddie Bert, Bill Watrous, Elaine Delmar, Marion Montgomery, Jiggs Whigham, Don Rader, Don Lusher, Kenny Baker, Eric Delaney, Phil Woods and many more.
In 1997 he was awarded the Master of Arts Degree from Liverpool University and in July 2005 was awarded a PhD at the same University. The subject of his thesis is 'Trumpet Mouthpiece Design - An In-Depth Study'. At the 2000 International Association of Jazz Educators in New Orleans Ian Darrington was awarded the Humanitarian Award for Jazz Education the first non-USA musician to receive the award. In September 2000 the Rotary Club awarded Ian a Community and Vocational Award in recognition of services within the community of Wigan. In October 2001 Ian was awarded the MBE by Her Majesty Queen Elizabeth II at Buckingham Palace.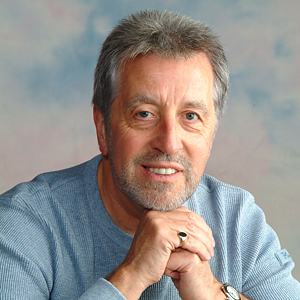 Keith Allen was awarded a scholarship to the Royal College of Music, London, then undertook post-graduate studies at Birmingham University and Kingston University, with a Master's Degree from the University of West London. He played clarinet and saxophone in numerous orchestras, including working with the City of Birmingham Symphony Orchestra
and the Royal Shakespeare Company.
His previous positions include: Saxophone Tutor at Birmingham Conservatoire; Head of Birmingham Music Service; Consultant Editor: Faber Music Ltd. His current positions include: Music Director: Birmingham Symphonic Winds; Festival Director: National Concert Band Festival – the UK's largest wind band & big band festival; 'conductor in residence' with Birmingham University Wind Band; Conductor: Solihull Youth Wind Orchestra and member of the Advisory Board of the London International Music Festival.
His busy schedule includes adjudicating across all musical genres at numerous festivals in the UK, as well as guest conducting in America, Spain, Latvia, Ireland, Hong Kong, Australia, China and the UK. Keith Allen founded Birmingham Symphonic Winds in 1992 and since then have achieved an unparalleled track record both nationally and internationally with more accolades for musical enterprise and excellence than any other wind orchestra in the UK. With a dedication to the creation and performance of contemporary works for this medium, BSW has premiered over 50 pieces (many of them commissions) from British, American and European composers, including Malcolm Arnold, Benjamin Britten, David Bedford, Mark Camphouse, Nigel Clarke, Michael Daugherty, Jonathan Dove, Martin Ellerby, Kenneth Hesketh, Nigel Hess, David Maslanka, Mike Mower, John Rutter, Philip Sparke, and Guy Woolfenden both in the UK and abroad. Keith Allen with BSW have recorded CD's for Faber Music, Studio Music. Bandmusicpdf.com and R. Smith & Co as well as 10 BSW albums and also a number of broadcasts on BBC Radio 3. Keith has worked with numerous distinguished soloists including Alison Balsom (trumpet), Juliette Bausor (flute), David Childs (euphonium), Evelyn Glennie (percussion), Hannah Marcinowicz (saxophone), Gerald McChrystal (saxophone), Linda Merrick (clarinet), Craig Ogden (guitar) and Simone Rebello (percussion).
Keith Allen is a regular visitor to America conducting British repertoire and in 2006 presented a lecture at the CBDNA Conference at the NorthWestern University, Illinois and in 2011 had conducting engagements with Minnesota Intercollegiate Honors Band, University of Minnesota Duluth Symphonic Wind Ensemble and Twin Ports Wind Orchestra. In 2013 he was 'conductor-in-residence' at the University of St Thomas and also guest conductor of Grand Symphonic Winds in St Pauls/Minneapolis. Since 2014 he has headed a ncbf Best of British Music trade stand at the annual Midwest Clinic in Chicago.